Growing sustainably
ESG, stock exchanges and Tadawul's role
The COVID-19 pandemic has thrust on the world the importance of ESG issues as never before. The ESG theme is in the forefront in forums of all sectors; government, business, development, foreign aid, and non-profit. Stock exchanges are well positioned to engage with market participants to promote sustainability in business and financial practices.
Tadawul became a member of the United Nations Sustainable Stock Exchanges (SSE) in 2018. The SSE is a network which provides for stock markets and market participants to conduct advocacy and drive performance on ESG issues. The UN Sustainable Development Goals provide a framework which can serve as guide to steering ESG programmes towards achieving positive and measurable impact.
SSE has identified six action areas where securities regulators can facilitate the building of financial systems that better support ESG goals. They are encouraging investment flows towards achieving Sustainability Development Goals (SDGs) through financial products; improving the quantity and quality of disclosure on environmental and social data; guiding investors on the integration of sustainability into their decisions; introducing Board responsibilities related to environmental and social factors; and facilitating the training of market participants on sustainability topics.
There are a number of mechanisms and supporting activities that could help achieve the above. Analysis of the factors that affect the ability of market players to support ESGs helps to identify gaps and barriers. The development of national or regional roadmaps for sustainable finance includes actions to achieve the same end. Sharing experiences with other securities regulators can result in building knowledge on the subject. Working with relevant international bodies can facilitate implementing guidelines and frameworks. Collaboration with other relevant organisations such as stock exchanges, regulators, and industry associations aligns efforts to support SDGs.
While Tadawul has taken some steps regarding the SSE action areas, such as networking to promote sustainability issues it has more to achieve in this direction. Further, steps are planned for 2021 such as conducting awareness workshops for listed companies.
Tadawul has identified the following six of the SDG targets/goals to focus on from the 17 goals in its sustainability programmes.
Tadawul's initiatives
As ESG is a continuously evolving subject, Tadawul constantly keeps abreast of developments by consulting with market participants and global leaders on the subject. We thereby intend to adopt the most widely accepted frameworks. Tadawul continues to structure its ESG activities around four themes: economy, environment, education, and community. We have held one-to-one discussions with listed companies and other market participants which have helped to take the subject forward.
Our sustainability activities have included more than 15 initiatives directly linked to the core strategy of Tadawul. Some of them are described below under the four themes.
The identified six UN Sustainable Development Goals (SDGs) provide a framework which guides the Exchange in the development of ESG programmes which will achieve a positive and measurable impact.
Economy
One of Tadawul's main initiatives towards the economic aspect of sustainability is the Invest Wisely Program. This programme aims to promote financial literacy and investment awareness. The programme is targeted at participants of varying levels who are taken through a comprehensive learning experience. Students learn through practical experience in a realistic environment through simulation exercises. The programme completed its fourth year during which several workshops on specialized subjects were conducted.
Another aspect of our contribution to the SDGs is our role in extending a helping hand to the small and medium enterprises (SMEs), through the Nomu - Parallel Market that is dedicated for this sector. This relates to our commitment to SDG 8 (Decent Work and Economic Growth). SMEs are a major driver of economic growth and job creation in emerging economies. They also provide opportunities for entrepreneurial talents. However, they face many constraints including impediments to accessing finance. Capital markets and stock exchanges have a social responsibility to help overcome this barrier.
Nomu - Parallel Market has lighter listing requirements than the Main Market, which facilitates listing by smaller companies. By listing on Nomu, SMEs can begin their journey of growth by raising finance and gradually make the transition to the Main Market. Our efforts to assist the smaller companies dovetail well with our commitment to the SME Growth and sustainable development initiative.
From the launch of Nomu Market in early 2017, Tadawul supported more than 14 companies to list and raise financing; in about two to three years, more than five companies have raised capital for expansion and gradually made the transition to the Main Market successfully.
Community
In accordance with our commitment to gender equality, Tadawul hosted "Ring the Bell for Gender Equality" to mark International Women's Day annually, starting from 2019. The celebration was held in the presence of Princess Moudi bint Khalid bin Abdulaziz the Chairperson of Al Nahdha Foundation, Tadawul Chairperson Sara Al-Suhaimi, Tadawul CEO Eng. Khalid Al-Hussan. In addition, several senior executives and female leaders from listed companies also graced the occasion. Tadawul joined over 90 stock exchanges worldwide in participating in this event under the auspices of the SSE. This event symbolises the contribution that business and markets must make in enhancing gender equality.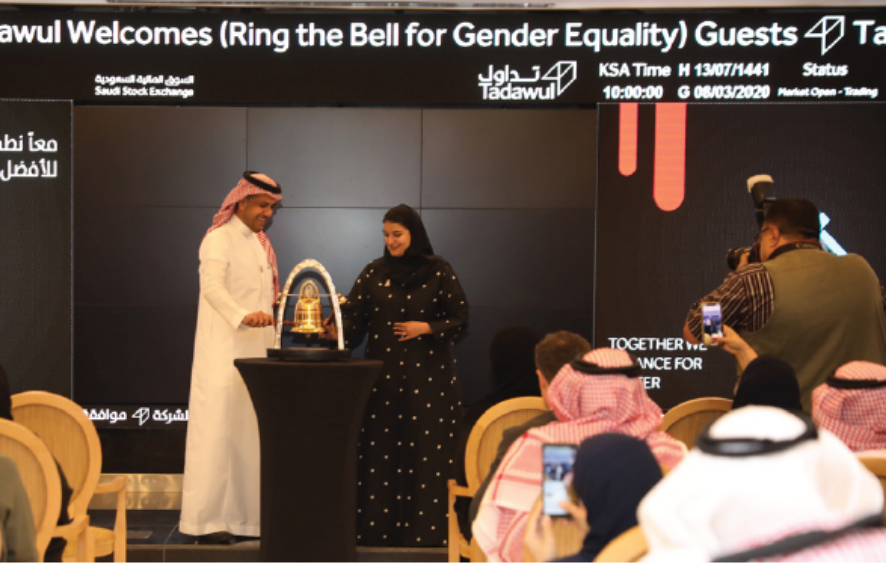 Internally, Tadawul lives up to its commitment to gender equality. Out of Tadawul's workforce 28% is female and we are committed to increasing the number. Women also occupy 25% of the C-Level positions. Two members of the Board including the Chairperson are women. In addition, 40% of our employees are below 30 years of age which demonstrates the importance we give to youth in general. Tadawul supports and mentors the young women who play a key role in the Exchange's future and is committed to growing the representation of women within the Exchange.
We have introduced the Nursing Allowance for female employees from the date of birth to age five of SAR 15,000 per year per child with a maximum of SAR 30,000 per year. We have also supported female employees by paying their driving school and license fees up to SAR 3,000 per employee. Female parent employees were facilitated to work remotely for a period of one month during the COVID-19 pandemic to support "Remote Education".
Tadawul's CEO signed the Women's Empowerment Principles, giving us the distinction of being the first Saudi company to do so. The principles are directed towards strengthening the role of women in the capital market as well as in listed companies. The Exchange also supported several listed companies to sign the Women's Empowerment Principles and thereby commit themselves to empower female employees. Some of the listed companies have also joined the Women's Empowerment UN Initiative.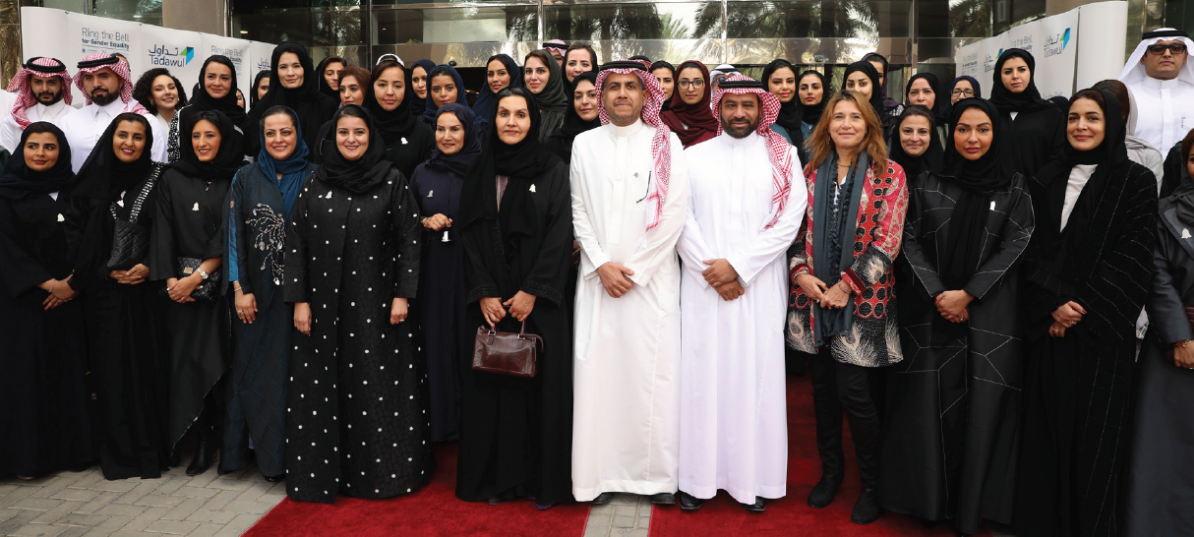 Chairperson Sarah Al-Suhaimi was named a Leadership Champion for the Women Entrepreneurs Finance Initiative (We-Fi) for the period June 2020 - May 2022. This position gives an opportunity to galvanize global support for female entrepreneurs through a host of activities which will lead to providing a more conducive environment for women-owned or women-led SMEs. The supporting activities include easier access to debt, equity, venture capital, insurance products, networks, and mentors.
Education
The Graduate Development Program was launched by Tadawul and its subsidiaries in 2019, with the objective of grooming future leaders. Through the programme the trainees are exposed to practical situations where they can apply their theoretical knowledge. The trainees are given a specific job title and prepared for a specific job role once they complete their training where they will be able to fulfil the expectations. In 2020, a total of 15,700 applications were received out of which 41 were selected.
Environment
Tadawul is also concerned about its impact on the environment and seeks to minimize its impact by reducing consumption. One related initiative is the recycling of paper and plastic waste. We are also conducting advocacy in this direction by way of our membership in the Climate Change Advisory Group.
Partnership with SSE
A major development during the year was Tadawul joining the SSE Derivatives Exchanges Advisory Group on the invitation of SSE. This initiative is a research project on the role of derivative exchanges in sustainable development. This Group has an important role to play in view of the fact that many exchanges that are members of the SSE provide a platform for derivative trading.
Another initiative in which Tadawul is participating is the SSE Climate Change Exchanges Advisory Group. Climate change today is a global issue of paramount importance. This project aims to facilitate exchanges to provide guidance to issuers on climate change impacts. The objective is to develop a best practice reporting guide for issuers. This project is a joint effort in partnership with UN COP26 Climate Change Conference. Tadawul also contributes to quarterly calls of the SSE, which links all the members globally.
Tadawul continuously conducts dialogues with issuers and other market participants on matters relating to ESG. Our discussions with listed companies focus on sustainability, while we also held discussions with institutional investors and members to understand their perspectives. In the future we intend to expand our activities in this direction further.
What lies ahead
The Exchange has drafted its roadmap for ESG. The Senior Management is actively participating in the initiative, which underlines the importance Tadawul gives to ESG considerations.
In 2021, Tadawul intends to conduct awareness workshops for listed companies as well as for the general public. The objective is to help market participants adopt global best ESG practices and align with international standards and frameworks regarding disclosures. Tadawul has entered into an MOU with one organization to advance ESG awareness. Many MOUs with other local bodies are in progress.
Looking ahead, one of the SSE initiatives Tadawul needs to address is climate action and green finance. Given the universal concerns on climate change and green finance, green products, and services are moving into centre stage in the global economic and financial scenario. The underlying concept is to increase the financial flows to sustainable development initiatives. We see much potential for the Exchange in this area and look forward to making a major contribution in the future.
Tadawul is also planning to publish an ESG Disclosure Guidelines document soon, intended for market participants, particularly issuers. This will communicate the importance of ESG to issuers, educate them on current developments, and provide guidelines on disclosure and reporting. Tadawul is committed to enhancing the ESG profile, not only in the Kingdom but also worldwide and being part of the global discussion. We are optimistic that in 2021, we will be able to make substantial progress towards this goal.